Palace
The ensemble of the Austrian Square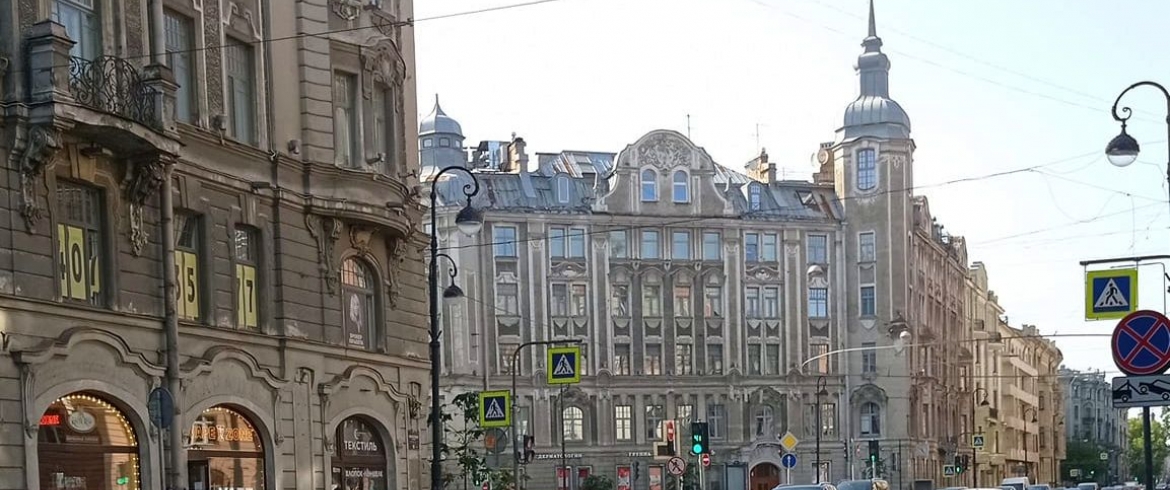 Address
Square at the intersection of Kamennoostrovsky Prospekt and Mira Street
Years of foundation
1901-1906, 28 September 1992
Architects
V.V. Shaub and others
Square at the intersection of Kamennoostrovsky Prospekt and Mira Street.
In the XIX century, there were land plots with gardens, one-and two-story wooden houses with the stone bottom, and the area had arc-shaped outlines. In the 1890s, it was re-planned, the square became multifaceted, but for another hundred years, it had no name. Only in 1992, the area was named Austrian for the similarity of the architectural style of buildings with Viennese modernism.
Four of the five houses (houses 13, 16, 18 and 20 on Kamennoostrovsky Prospekt) were built at the beginning of the 20th century. The author of houses 13, 16 and 20 is the architect Vasily Vasilievich Shaub. Here he created one of the few architectural ensembles in the Art Nouveau style in St. Petersburg.
The most interesting of them is house 13, an apartment house of honorary citizen Konstantin Khristianovich Keldal, built in 1902-1903. Here, in apartment number 20, in 1907-1908 the writer Leonid Andreev lived. He held literary evenings, among which Alexander Blok and Fyodor Sologub were regular visitors.
House 16 is a profitable house of E.K. Lipgart, built in 1905-1906. Its owner is E.K. Lipgart (1906-1929), an academician of painting, painter-decorator and outstanding historian of Renaissance painting, chief curator of the Hermitage Art Gallery.
House 20 is a profitable house of a hereditary honorary citizen, mayor of St. Petersburg, M.M. Gorbov, built in the years 1901-1902. In 1907, at the first city competition of facades, the building was awarded an honorary diploma.
Especially fashionable was the area after the opening in 1903 of the permanent Trinity Bridge, which connected the St. Petersburg (as it was then called) side with the Admiralty part. It was at this time that the Art Nouveau style blossomed, for which the Petrograd side is still famous
Индивидуальные экскурсии по городу и пригородам на автомобиле и минивэне
Петербург для тех, кто ценит комфорт и внимание
Заказать