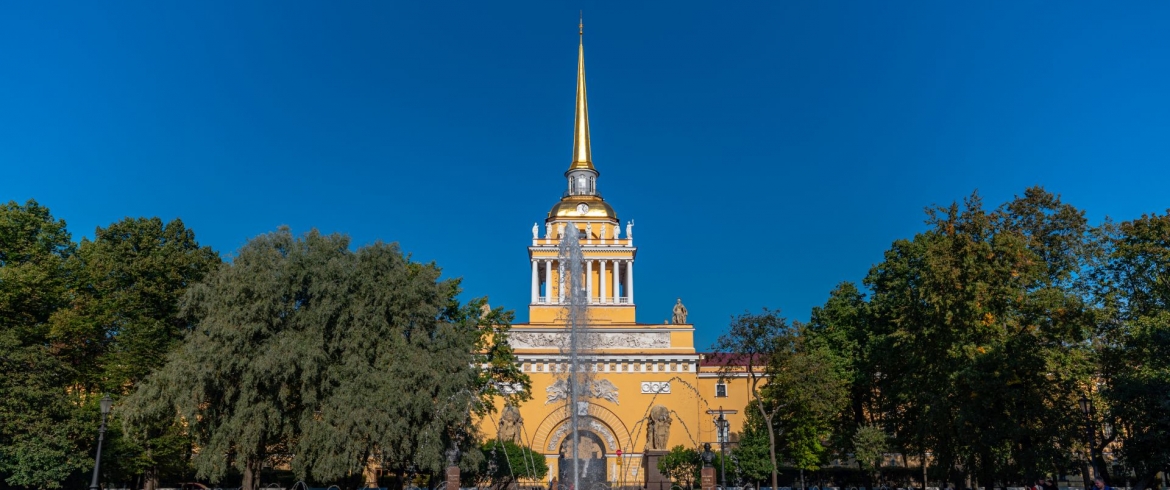 Address
Palace Passage, 1; Admiralteysky Proezd, 1; Admiralteiskaya emb., 2
Years of foundation
1704-1823 years
Architects
I.K. Korobov, A.D. Zakharov
Admiralty is one of the most famous monuments of the Northern capital. From it began the birth of the fleet in Russia, the development of shipbuilding and maritime power of Russia. Today, the Higher Naval Engineering School named after F.E. Dzerzhinsky is situated here.
The construction of the Admiralty was started in 1704 according to the drawings of Peter I on the island between the Neva and the Moika (the island was named the Admiralty). It was conceived as the main shipyard in Russia on the Baltic Sea.
In 1711, in the center of the main facade, a tower with a spire with a weather vane was built. This is one of the main symbols of St. Petersburg. According to the legend, the silhouette of the weathercock repeats the outline of the first ship, which entered the port of St. Petersburg shortly after the city was founded.
Admiralty was rebuilt repeatedly. In the years 1732-1738. under the guidance of architect I.K. Korobov, the first stone Admiralty was built. And at the beginning of the XIX century, according to the project of architect A.D. Zakharov, a majestic three-story building with a height (along with the spire) of 72.5 meters appeared here.
The main facade of the Admiralty has a length of 407 meters, it is decorated with six- and twelve-columned porticoes, and on the sides of the main arch there are figures "Nymphs carrying the Earth's sphere". The sculptural decoration of the tower includes 56 statues, 11 bas-reliefs, and 350 molded ornaments. The statues are made according to the models of the famous sculptor F. Shchedrin.
На комфортабельных однопалубных и двухпалубных теплоходах
30
экскурсионных круизов по Неве, рекам и каналам
Купить билет