Bridge
2nd Enginerny Bridge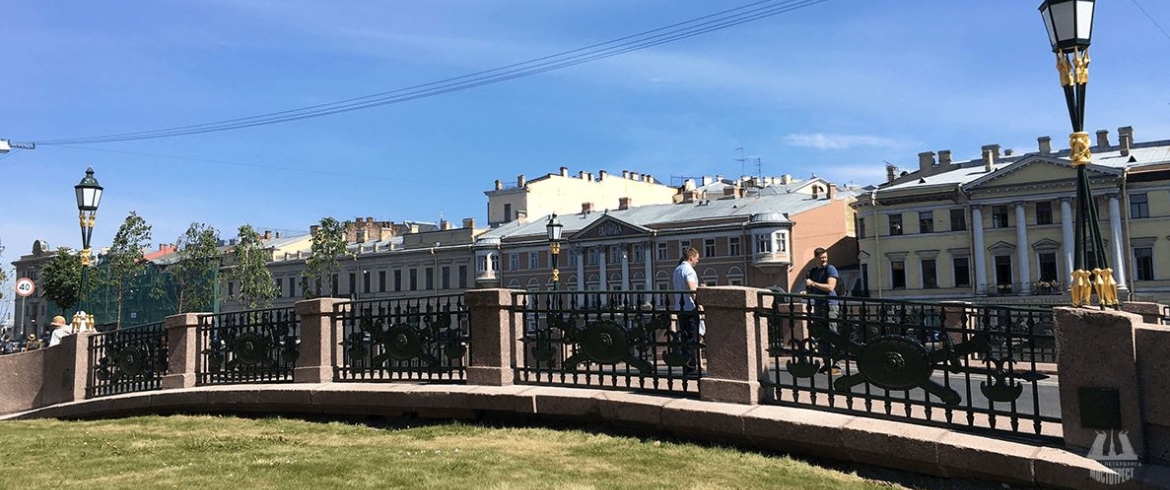 River
Voskresenskiy kanal
The 2nd Enginerny Bridge (former Enginerny Bridge: 1849-1890) is located on the right bank of the Fontanka River across the Voskresensky Canal, filled up in the middle of the 19th century in front of the Engineers Castle. The bridge was built in 1824-1826 under the project of P.P.Bazen, the engineer of the Railway Corps.
The bridge is a single-span stone made as hingeless arch. It is designed as the fixed stone vault faced with granite. The bridge had stone granite-faced abutments on pile foundation. The railings are art cast iron grillages with overlaid reinforcement of the military attributes and granite pedestals. At the bridge entrance lampposts are installed made of six intercrossed lances with hexagonal lights. Overlaid details are gold-plated.
During filling up of the Voskresensky Canal and construction of Zamkovaya Street the bridge was kept, and the span from the Fontanka River was closed by a metal shield. The bridge was damaged during the blockade: floor lamps with lanterns were destroyed, railings and granite parapets on the bridge wings were damaged.
In 1955 by the efforts of Lenmosttrest, under the project of A.L. Rotach, the bridge railings and granite parapet on the wings were renewed as well as lamps with lanterns were restored.
In 1984 granite borders was repaired, in 1991 - railings and borders, in 1994 - the lighting of the bridge.
In 1995 a partial repair of the stone arch, waterproofing was performed, paving granite slabs and curbs were straightened. Sand blasting of granite surfaces was performed. The bridge was repaired with maintaining its original appearance. In 1999 the waterproofing was replaced on the carriageway.
In September 2006 three sections of railings were seriously damaged in a road traffic accident. The restoration of railings took three weeks. After the installation of the restored sections the bridge railings were covered with a special protective paint.
The bridge is guarded by the Committee on State Control Use and Protection of Historical and Cultural Landmarks.