₽4.950 per group of 1 to 4 persons, ₽2.000 per extra hour; admission not included (₽450 per adult; ₽200 per person from 7 to 18; additional ₽300 per person for a visit to the colonnade)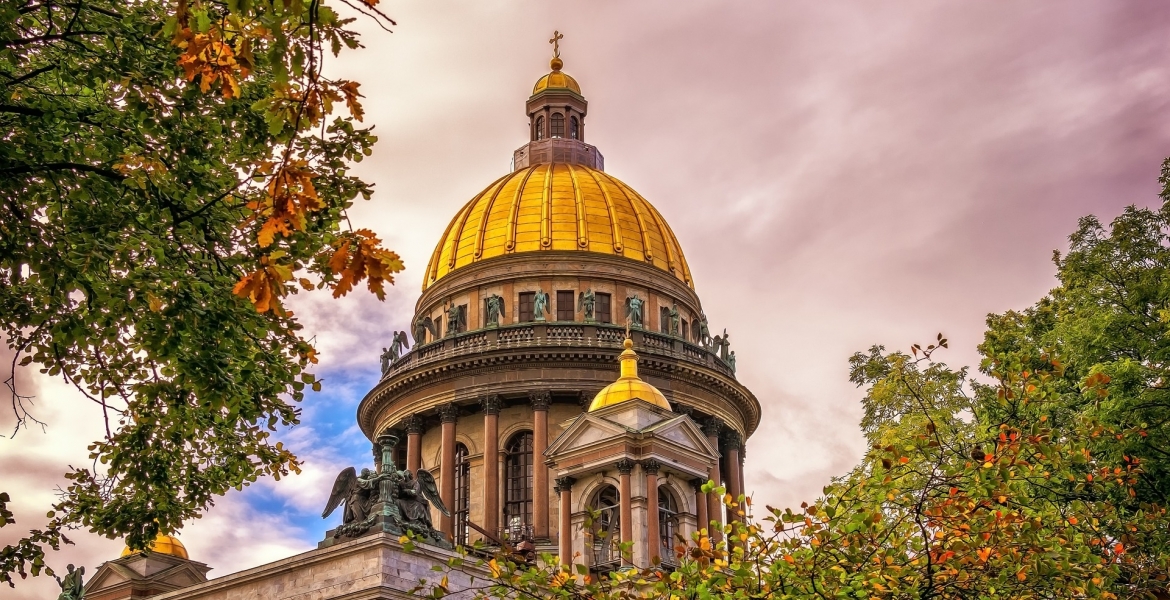 St. Isaac's Cathedral
A tour to St. Petersburg's main cathedral with a personal guide
Museums & mansions
Working days
Daily except Wednesdays
Opening hours
Museum open hours
Price
₽4.950 per group of 1 to 4 persons, ₽2.000 per extra hour; admission not included (₽450 per adult; ₽200 per person from 7 to 18; additional ₽300 per person for a visit to the colonnade)
What can you expect?
St. Isaac's is one of St. Petersburg's major Russian Orthodox cathedrals, and a must-see for any traveler.
In the course of your personal tour, you will learn a lot about its history, architectural design, and interior decoration. You can also climb up to its colonnade to enjoy the city's magnificent views.
Personal tour to St Petersburg's main cathedral
Must-see for every St. Petersburg first-timer
View of the city from the 43-meter-high colonnade
Lesser-known facts on the city's most famous building
Option of including the visit to the church in a general St. Petersburg tour
Personal guide, an expert in Russia's architecture and history
Route and content of the tour
In program
St. Isaac's Cathedral is one of central St. Petersburg's most impressive landmarks. Your personal guide will tell you
How it came that three consecutive St. Isaac's churches had been built on the site before Auguste de Montferrand erected the cathedral you are visiting
How tall the cathedral is, and how many steps lead to the upper colonnade
Why its interiors, sculptures, mosaics and stained-glass panels are considered important
When, how and why a Foucault pendulum was installed inside the cathedral, and where it is kept presently
Attention! Your visit to St. Isaac's can be included in any of our other St. Petersburg tours you have bought.
Important!
Admission to St. Isaac's is not included (₽450 per adult; ₽200 for privileged visitors and children from 7 and 18). Additional ₽300 per person for a visit to the colonnade. We can buy tickets for you beforehand so that you avoid the queues or on-line routine.
To choose a convenient date and time for your tour, please book it no later than 24 hours before its beginning. Otherwise, the schedule will depend on the availability of our guides.
Our tours are planned on an individual basis. Cost is the same regardless of whether you take your tour alone or with friends or family.
If you change your mind, and want to cancel your tour after you have paid for it, you will get your money back.