Concert
Razmotchiki Katushe, Eject, Noise Fabrique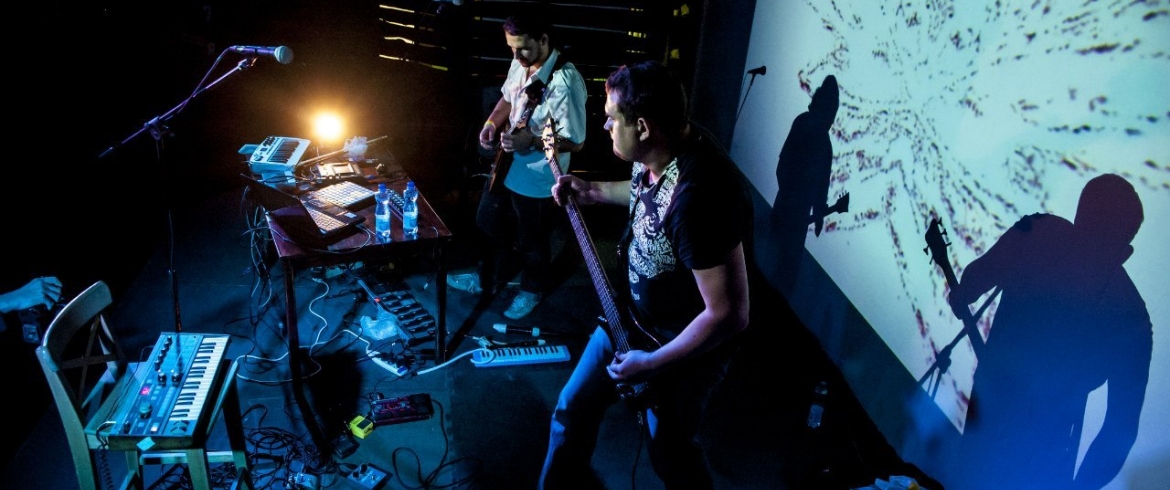 Date
27 february 2019, 19:00 – 23:00
Concert of Razmotchiki Katushek, Eject, Noise Fabrique.
On February 27, three very different and unlikely collectives will warm you on the stage of "Heart". Experimenting with everything? what is possible and impossible, mat-rock and dark jazz, industrial and post-punk, a warm world of analog effects, live and electronic rhythms, household noise and caressing the soul, positive constructivism of the noise of native plants ...
Since 2004, Eject Quartet has been confidently maneuvering in the space of musical experiments, complex rhythmic structures and unusual timbres, while not forgetting about the clear melodic component and high level of drive. Their creative range extends from sound noise-rock to atmospheric dark jazz, turning into a free improvisation, flavored with a rough sound of analog electronics.

Noise Fabrique is a multi-genre instrumental project of three musicians. The band was created in 2010 by the balalaeshnik Alexei Zubkermann in Finland (NOM, Troll Orchestra) and bass guitar player Sergey Kruglyakov, and currently continues to exist in Russia between the cities of St. Petersburg and Perm. Each performance of the group is unique, the duration of the compositions may vary depending on the general mood of the musicians and the audience. NF tracks have both a clear compositional structure and a share of improvisation based on experiments with ethno, ambient noise, post-punk, kraut-rock, with dub and IDM, drone and other elements. The originality of the team is an electric balalaika, decorated with numerous atmospheric effects.

RAZMOTCHIKI KATUSHEK is a new electro-industrial project, the duet of Ekaterina Fedorova (ZGA, IVA NOVA, FIGUS) and Remko Mueermans (ex ZEA, Holland).