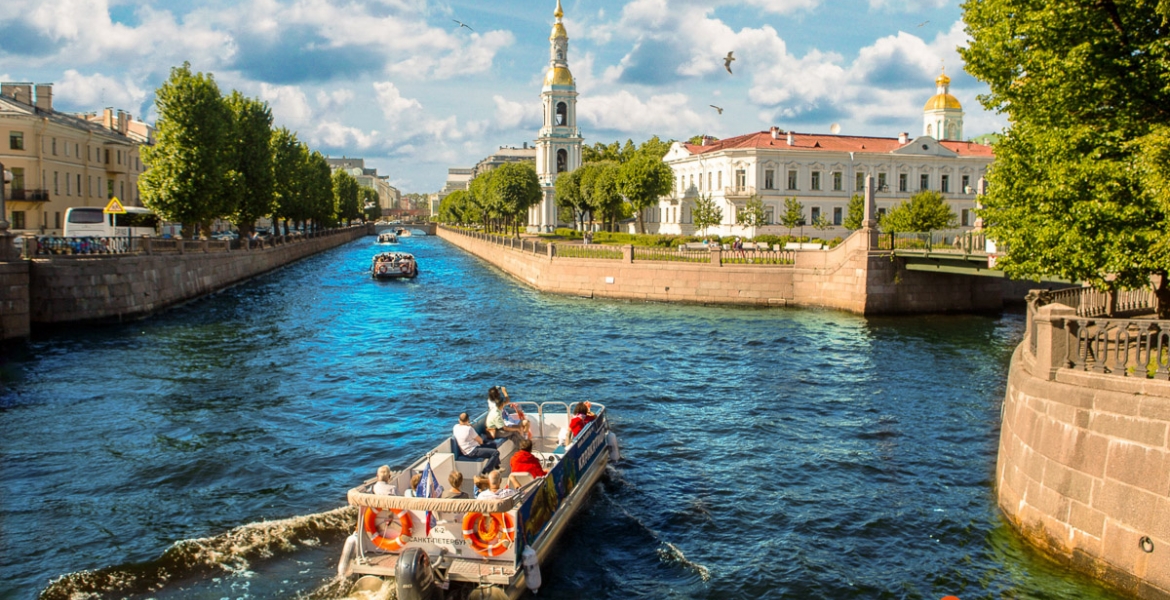 The Golden Triangle
Boat cruise down St. Petersburg's canals under low bridges
Water Trips & Tours
Opening hours
12:00—20:30 every 30 min
Price
₽900 (adults), ₽600 (children)
What can you expect?
We offer you a chamber cruise down St. Petersburg's rivers and canals aboard comfortable 11-seat boats capable of sailing even under the lowest hanging bridges, with views inaccessible to passengers of common cruise boats.
Cruise down St. Petersburg's rivers and canals aboard 11-seat boats
Griboedov Canal, Kryukov Canal, Fontanka, Zimnyaya Kanavka
Audio guides available in five languages on cozy sofas
Opportunity to sail even under the lowest bridges
All St. Petersburg's major sights
Personalized tours available
Route and content of the tour
In program
The Golden Triangle is St. Petersburg's heart and soul, with major historic sights scattered all around.
Departing from the Konyushennoye Vedomstvo quay on Moika, and sailing down the Neva, Griboedov Canal, Fontanka, Kryukov Canal and Zimnyaya Kanavka, our Karakatitsa and Triton boats pass beneath 35 bridges including Kazan Bridge, the city's lowest and widest (nearly 100-meter-wide).
Winter Palace, St. Peter and Paul Fortress

Bridges: Troitsky (St. Trinity), Kazan, Anichkov

Cathedrals: Savior on Spilled Blood, Kazan, St. Nicholas

Mikhailovsky Castle, Sheremetev Palace

Summer Gardens, Derzhavin's Mansion
You can rent a whole boat, and enjoy a personalized tour in Russian, English, German, Chinese or Spanish.
Important!
You can book the tour at our website or through our app.
Full prepayment is required. If you cancel your tour, refunding is only possible in the event that the cancellation is made no later than 24 hours before the tour.