Hop on/hop off ₽1200 (adults), ₽950 (children). 80-minute round: ₽900 (adults), ₽600 (children)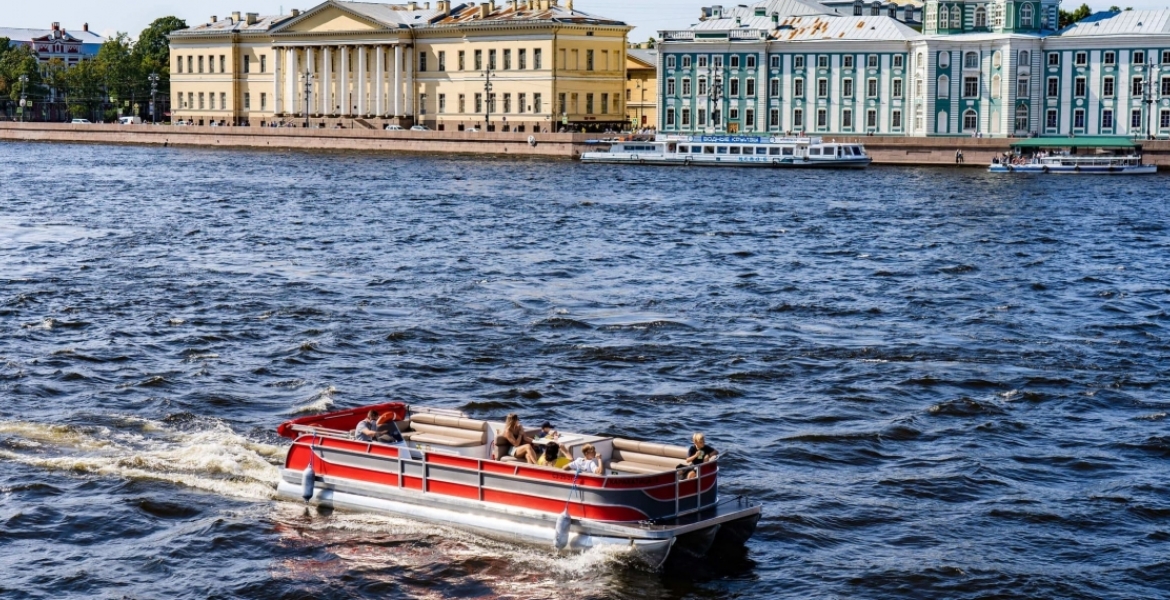 Viva St. Petersburg!
Water trip aboard a hop on/hop off boat
Guided Water Tours
Duration
9 hrs/1hr 20 min
Opening hours
11:30-20:30, every 20 minutes
Price
Hop on/hop off ₽1200 (adults), ₽950 (children). 80-minute round: ₽900 (adults), ₽600 (children)
What can you expect?
This water trip aboard trimaran boats will give you an opportunity to easily reach a number of St. Petersburg's sights and landmarks located far from each other, including the cruiser Aurora, the Church of the Savior on Spilled Blood, the Central Navy Museum, and New Holland Island.
With the hop on/hop off ticket, you can get off at any stop, to visit a museum, and then to continue your trip without extra payments.
Hop on/hop off sightseeing boat trip
Stops at important museums
Aurora Cruiser, Central Navy Museum
Church of the Savior on Spilled Blood
Neva, Moika, canals around New Holland
Light and comfortable 11-seat boats
Route and content of the tour
In program
Starting off from the quay of the Cruiser Aurora, the boats proceed along Neva, Fontanka, Moika, Kryukov Canal, Admiralteisky Canal, and Novo-Admiralteisky Canal, with stops on Moika at the Church of the Savior on Spilled Blood, and on Kryukov Canal at New Holland Island.
Our trimaran boats, Triton and Karakatitsa 4, are capable of floating in shallow water and under low-hanging bridges.
Our guests are offered to enjoy audio guides available in Russian, English, German, Italian, Chinese, French, Korean, Japanese, and Spanish. In case of inclement weather, we will provide you with umbrellas and rugs.
If you get off at the Aurora quay, you can continue your tour through the city and its sights in the City Sightseeing double-deckers.
City Sightseeing double-decker tickets
Important!
The hop on/hop off ticket is valid all day without limitations, while with the one-round ticket, you can only ride aboard one boat. Both types of tickets are available online through our web-site and add.
Also available at the quay are ₽300 tickets you can buy in case you just want to take a single ride from one quay to the next one.
Online reservation requires full prepayment. In case you cancel your reservation, full reimbursement is only possible no later than 24 hours prior to the scheduled start of the tour.
Attention!
We can plan a special individual tour for you, based on your preferences in terms of duration, topic, route, or cost. Depending on your choice, your tour can last a couple of hours or several days. Each separate part of your tour will begin and finish at any time and any place you choose.
For more details or booking, please contact us: +7 (812) 611-30-12 or zakaz@petersburg24.ru.
Интересные экскурсии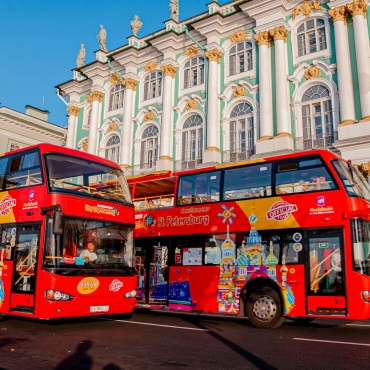 Double-decker bus sightseeing tour (24h)
24h: Adults: ₽1500. Children: ₽600. Privileged: ₽1300