Standard: ₽900 (adults) and ₽600 (children); Comfort: ₽1000 (adults) and ₽600 (children); Business Class: ₽1600 (adults) and ₽750 (children)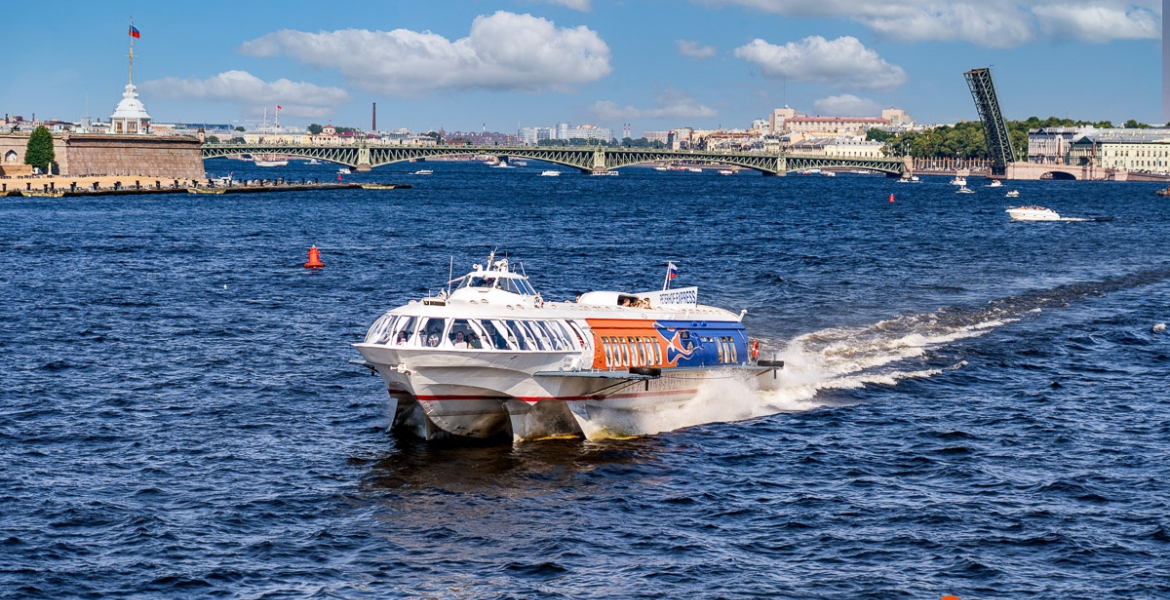 From St. Petersburg to Peterhof Aboard Meteor Hydrofoils
Trip from central St. Petersburg to the capital of fountains and back
Water Trips & Tours
Opening hours
10 am to 7 pm every 30 minutes
Price
Standard: ₽900 (adults) and ₽600 (children); Comfort: ₽1000 (adults) and ₽600 (children); Business Class: ₽1600 (adults) and ₽750 (children)
What can you expect?
Want to get from central St. Petersburg to Peterhof's fountains in a mere 40 minutes? This is absolutely real if you choose a water trip aboard ASTRA MARINE's comfortable Meteor hydrofoils that will save you from the inconveniences of ground transportation.
The trip also provides you with an opportunity to see St. Petersburg's views from unexpected angles, and to enjoy beautiful seascapes of the Gulf of Finland.
Comfortable trip to the fountains
Picturesque marine and riverine views
Comfortable seats, bar, WCs
Fast, comfortable and safe
Route and content of the tour
In program
The Meteors depart from the Lions quay at Admiralteyskaya Embankment, and arrive right at the Lower Park in Peterhof.
On their way, the Meteors first go past the Vasilievsky Island Spit, and then float down Malaya Neva, passing under the historic Birzhevoy and Tuchkov bridges and the contemporary Betancourt and ZSD bridges, before entering the Gulf of Finland.
An audio guide is available aboard.
Once you arrive at Peterhof, you immediately see the view of all its park treasures, including the internationally famous Samson fountain.
Admission to the park is by tickets. To avoid queues, we recommend that you buy the tickets beforehand online at the Peterhof Museum website.
Even a better choice is to book a walking guided tour [ссылка?] through the Petersburg24 website or app. Our licensed guide will tell you numerous exciting facts of Peterhof, a Russian royal residence deemed to be one of the world's most beautiful architecture and landscaping monuments.
Important!
Meteor booking is available both online at the ASTRA MARINE website (Russian only) and at the quays. The cost depends on the seat class:
*Standard: seats at the back of the deck or in the mid-section of the central salon;
*Comfort: window seats in the central salon;
*Business Class: seats on the fore deck with the panoramic view windows (the fare including tea, coffee or water, as well as nuts or chocolates).
Founded in 1994, ATRA MARINE is one of St. Petersburg's largest shipping companies offering domestic passenger transportation services.