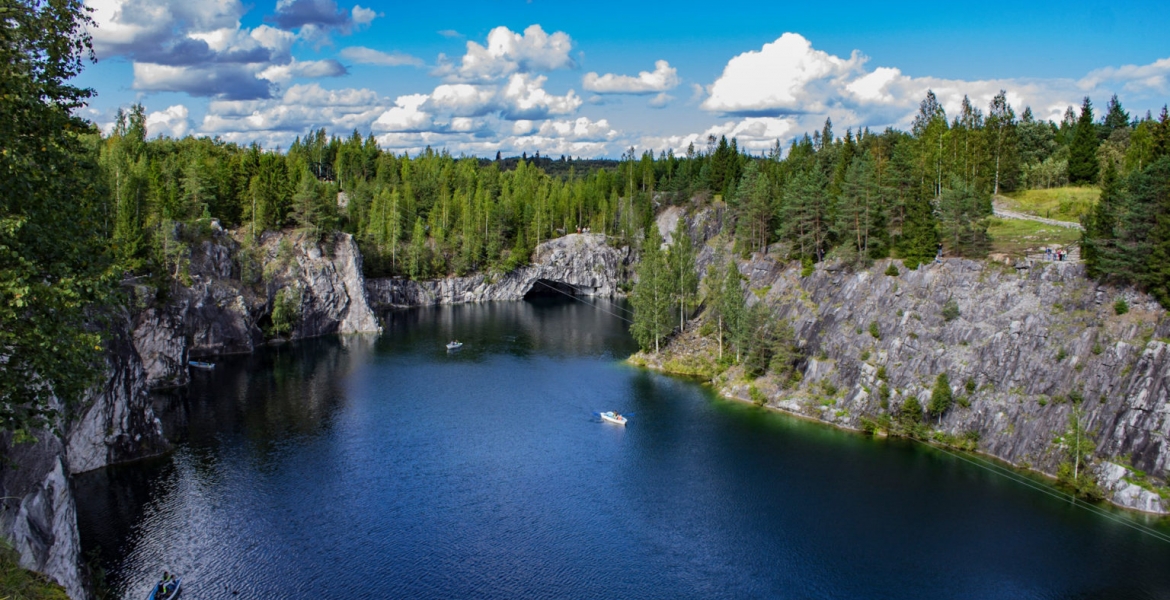 Ruskeala: Karelia's Pearl
Tour for small groups through Karelia's most beautiful nature places
All
Working days
Saturdays, Sundays
Opening hours
06.30–23.00
Price
Standard package; ₽3850 per person. Full package; ₽4950 per person
What can you expect?
Our one-day tour for a group from 8 to 12 persons to the mountain park Ruskeala aboard a microbus offers you an opportunity to see West Karelia's most beautiful nature area.
The microbus will take you early in the morning at Ploshchad Vosstaniya (Ligovsky pr., 10) in St. Petersburg.
Small group, comfortable microbus
One-day trip to Karelia's most beautiful places
Priozersk, Sortavala, Ahvenkoski Waterfalls, Ruskeala Mountain Park
Marble Canyon, lake trip, caves, ride aboard a retro steam train
Admission and tour Ruskeala included in the full package
Priority admission to the park and a professional guide's services
Route and content of the tour
In program
Early in the morning our bus will leave from Ploshchad Vosstaniya, and after about three hours of travel across the entire Karelian Isthmus, it will arrive in the town of Priozersk, formerly Kexholm. Here we will explore the Korela fortress and learn how it became one of the most famous political prisons in Russia, who were detained here ...
Then we will cross the border of the Republic of Karelia and soon arrive in Sortavala, where we will have a sightseeing tour of this ancient city on the banks of Ladoga.
And here it is, the famous Ruskeala mountain park! We will spend three hours in it, during which you can enjoy the beautiful Finnish nature, take a walk on hiking trails, climb observation platforms, and take a boat trip. And for those who like active rest, there are diving, bungee jumping, trolls (zipline), ATVs and snowmobiles - depending on the season. You will explore Ruskeala Park on your own, and the guide will tell you in detail about all the possibilities of this place.
On the way back we will visit Akhvenkoski - one of the most famous and picturesque waterfalls in Karelia. Those who wish can take a walk along the eco-trail. Then we will make a stop in the town of Lakhnedpohja, where you can drop by a fish store or tasting Karelian alcoholic beverages - also at will.
We will return to St. Petersburg at about 23.00.
Important!
Services included:
*Comfortable microbus with our guide and their tales during the ride
*Korela Fortress (outside)
*Bus tour around Sortavala
*Admission to Ruskevala Mountain Park with a guided tour (for full package holders)
*Marble Canyon, Italian Quarry, Lake Svetloe, an abandoned marble factory
Possible extra expenses:
*Services in Ruskeala (at the park's rates)
*Ahvenkoski Waterfalls Route (₽300 per person)
*Retro train: ₽420 per person
*Set lunch: ₽400 to 500 per person
We recommend that you have some cash available.