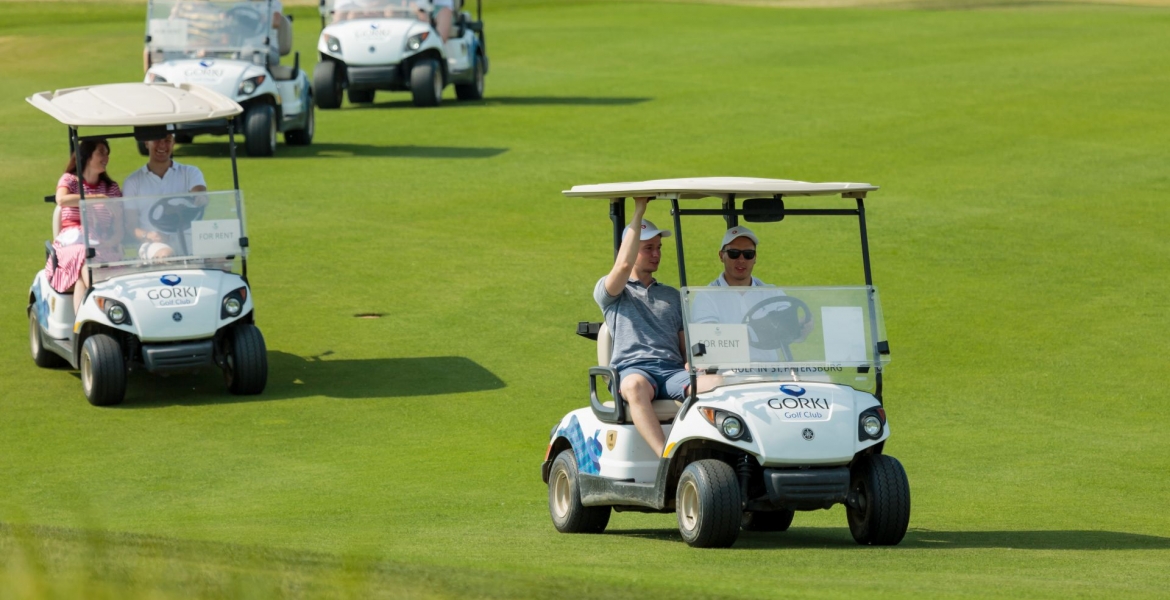 GORKI Golf Resort
Individual weekend tour with unlimited golf included
All
Duration
Two and more days
Working days
May through October
Price
for unlimited gold available any time 24 hours
What can you expect?
You are welcome to an international class golf resort with options to play this trendy game amidst picturesque landscapes on an unlimited basis, or to learn how to play it.
In addition to golf facilities and lessons, the individual GORKI Golf & Resort offers four-star hotel accommodation including club dinners, and spa with swimming pools and whirlpools
18-hole golf course, unlimited golf option
International level golf resort
Weekend tours for couples and families
Spa with a swimming pool and whirlpool
Walking distance to the Oranienbaum park and palace
4-star hotel with dinners in its panoramic restaurant
Route and content of the tour
In program
GORKI is a golf resort of international level with an 18-hole championship course and a developed infrastructure. Several Russian and international competitions have already been held on its territory. The course certainly deserves attention of foreign golfers. It has been built in accordance with the standards of best course management - R&A and the Scottish Inland Links Course. By all standards, GORKI can host international competitions of any level.
The cost of green fee at GORKI includes unlimited golf! This means that paying for green fee once, a golfer can play an unlimited number of times, within 24 hours! This opportunity can be an especially great option to implement due to the northern geographical location. GORKI invites golfers from all countries to play golf for a full 24 hours enjoying the famous St. Petersburg White Nights on the course. This warm and wonderful summer time provides the perfect backdrop for the GORKI White Night Golf Tournament – an unforgettable experience of playing golf with the glowing golf balls!
In 2018, 2019, 2020 and 2021 GORKI Golf & Resort was recognized as "Russia's Best Golf Hotel" by the World Golf Award. According to the National Club Golfer publication on 2020, GORKI Golf & Resort is one of Europe's best TOP-100 golf courses.
With its four-star hotel, cozy and comfortable bungalows, professional 18-hole golf course, panoramic restaurant, sports facilities and playgrounds for kids, GORKI Golf & Resort is happy to welcome you all year round, so that you could enjoy a romantic trip for a couple or a lovely tour for a family with children.
Last but not least, GORKI Golf & Resort also boasts its vicinity to the famous Oranienbaum and Peterhof palaces and parks.
Important!
*Unlimited 24-hour golf: ₽9.000 per person.
*Golf lessons: up from ₽6.000 per person (first 90-minute lesson).
You can order a tour by phone +7 (812) 611 3012, contact us by e-mail zakaz@petersburg24.ru