Exhibition
Viva la vida. Frida Kahlo and Diego Rivera. Painting and graphics from museum and private collections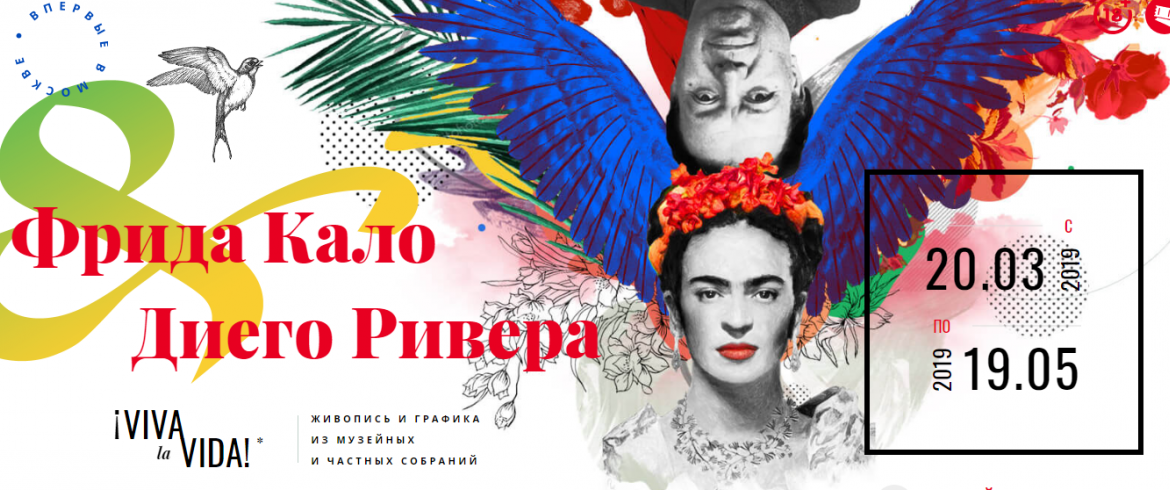 Date
20 march 2019, 10:00 — 19 may 2019, 20:30
The Cultural and Historical Foundation "The Link of Times" and the Faberge Museum present in St. Petersburg a large-scale exhibition project "Viva la Vida. Frida Kahlo and Diego Rivera. Painting and graphics from the museum and private collections, which shows masterpieces created by Frida Kahlo and Diego Rivera, and tells the story of a married couple who became the most famous in the art of the twentieth century.
Visitors of the exhibition will be able to see a unique retrospective of two artists - more than 90 works of Frida Kahlo and Diego Rivera, from early to late: paintings, drawings, lithographs. The exposition will be based on works from the Dolores Olmedo Museum (Mexico), which has the largest collection of Calo and Rivera paintings in the world, paintings and drawings from private collections in Europe and Latin America, works from the collection of Diego Rivera's grandson and the Arvil Gallery ( Mexico, USA), as well as previously unpublished documents from the Russian state archives. The exhibition is complemented by numerous photographs and documentaries about the life and work of Frida Kahlo and Diego Rivera.
The exhibition will include both the early works of Frida, based on the traditions of the European portrait art of the Renaissance, and works of the heyday of her talent. The key works of Frida are her self portraits. Viewers can see one of the most famous works of Kahlo - "The Broken Column" (1944), a kind of manifesto of her sufferings and resistance to the blows of fate, an artistic symbol of the strength of a woman. "Self-portrait with a monkey", all the images of which add up to the message: Frida again does not believe Diego, and her past and those who are attached to her give her strength. She became the first artist in history who addressed the topic of losing a child - Henry Ford Hospital (1932), which may seem shockingly intimate even to the modern viewer.
At the exhibition, it will be possible to trace all stages of Diego Rivera's creativity: from passion for post-impressionism and cubism to realism. So from the deeply personal works of Frida, the viewer moves to the monumental and socially oriented works of Diego. "A significant contribution to the scientific concept of the exhibition was made by the world famous expert on creativity, Frida Kahlo, author of her only catalog — reason, Dr. Helga Prignitz-Pod," V. Voronchenko, Chairman of the Board of the "Link of Times" Cultural and Historical Foundation, noted at a press conference in Moscow. The exhibition is accompanied by an illustrated catalog with articles by Katharina Lopatkina, Helga Prignitz-Pod and Raphael Coronel Rivera.