Exhibition
"Wild cats". Illustrations by Tatyana Kapustina and Vladimir Chernoglazov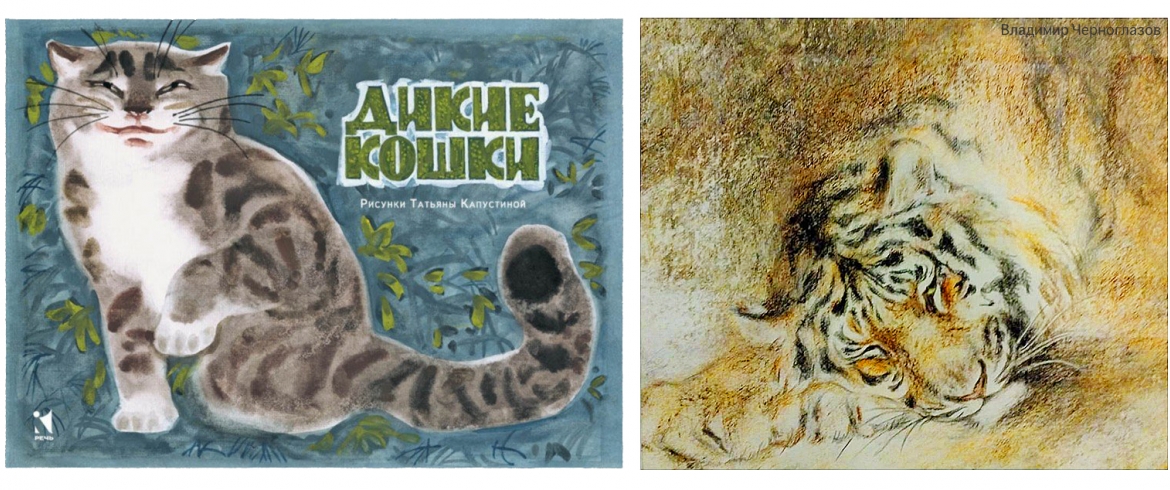 Date
11 february 2020, 10:00 — 28 february 2020, 22:00
Two classics of Soviet animalistic graphics - Tatyana Porfiryevna Kapustina and Vladimir Yuryevich Chernoglazov - presented to the Republic their works devoted to wild cats: lions, tigers, jaguars ...
Tatyana Porfiryevna Kapustina is an honored artist of Russia, a master of book graphics, in whose illustrations for the works of Bianka, Sladkov, Sokolov-Mikitov, Leo Tolstoy and other beloved naturalist writers several generations of children grew up. Her animals are kind, complacent and fluffy, her watercolors are airy, transparent and understandable to both large and small. The exhibition will present the originals of her illustrations for the book "Wild Cats".
Vladimir Yuryevich Chernoglazov worked for 40 years as an artist of the Leningrad Zoo, and also created many illustrated books about animals beloved by children. These are the famous "White Fang", "Mustang-pacifier", "Dixie", "Circus", "About Fluffy and Clawed", "My Pets" ... The nature and habits of large predators are not familiar to him from photographs. At the exhibition you will see his portraits of lions, tigers and jaguars and lively natural sketches, showing both the soft appearance and the hard nature of these huge cats.
The curator of an unusual exhibition of the legendary animal artists Tatyana Kapustina and Vladimir Chernoglazov was made by animal artist Tatyana Petrova.